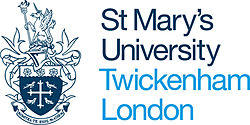 St Mary's University, Twickenham, is a public university in Strawberry Hill, Twickenham, in South West London. Founded in 1850, it is generally acknowledged to be the oldest Roman Catholic university in the United Kingdom. Formerly called St Mary's University College, it was granted full university title by the Privy Council on 23 January 2014.
Campus facilities
Students' Union
The Students' Union (SU) was first housed in the original chapel and had a bar where the Baptismal font used to be. The SU was then moved to another building and the old chapel was converted into a lecture hall. After that SU building burnt down several years ago, the SU was moved to its current location in J-building.
The building has a fully licensed bar with screens for viewing sporting events, and the SU hall underwent £50,000 of refurbishment in 2011 to convert it into an SU common room. There are a number of regular events in the bar and SU common room e.g. discos, quiz nights. It also organises annual events such as Freshers Week, SIMMStock and the Summer Ball.
The SU Hub, which includes a shop and smaller common room, is on the first floor of the Students' Union building next to the SMUC Radio studio and post room for resident students. The SU Hub common room area has sofas and laptops, and is a free Wi-Fi hotspot.
Refectory and Shannon Suite
In 2008 the refectory underwent a £4 million investment to create a larger seating area with new kitchen facilities and a conference centre. It officially opened on 17 April 2008. Named after Very Rev Gerald Shannon CM (Principal of St Mary's 1941–1948), the Shannon Conference Suite is above the refectory and consists of three conference rooms with AV provision.
Libraries
The University operates two library buildings in support of teaching and research activity, both operated by the Library Services department. The Main Library is at the centre of the Strawberry Hill campus, providing study and IT facilities as well has housing print resources for most disciplines active within the University. The Naylor Library, opened in 2015, is at 99 Waldegrave Road, Teddington and provides further multi-format study facilities along with print resources related to teacher training and Education programmes. It also houses the University's Doctoral College and associated facilities for postgraduate research students. St Mary's Library Services has a print book collection of approximately 115,000 volumes. In addition it provides access to around 120,000 e-books and 55,000 e-journals for staff and students.
Sport facilities
The facilities below are used by staff, students, professional athletes and teams and community groups. These facilities formed part of the pre-Games training camp used by Olympic athletes and officials from 10 national teams in the run up to London 2012.
In 1999, St Mary's acquired 15.8 acres (64,000 m2) of land near Teddington Lock. This was named Teddington Lock Sports Campus and now features a mixture of playing fields, all-weather pitches and parking.
Sports centre
Seb Coe opening St Mary's £8.5 million Sports Centre.
In 2011 Lord Coe officially opened St Mary's new £8.5 million sports centre, which received £500,000 of National Lottery funding from Sport England. A new building was constructed to create a single centre linking new facilities to the existing tennis hall and original 1960s sports block, which underwent refurbishment in 2010.
The centre includes a state-of-the-art fitness suite and a high performance sports hall. The fitness suite has 35 state-of-the-art life fitness equipment stations. In addition to this, there is a separate strength and conditioning suite that consists of 10 bespoke lifting platforms. The high performance sports hall caters for a range of sports, from 5-a-side football to sport specific training and competition as the hall consists of the following:St Mary's Sports Village.
6 Badminton courts
4 Cricket lanes
1 Basketball court
1 Netball court
1 Handball court Sports hall
This multi-purpose facility, which underwent refurbishment in 2010, offers a variety of facilities suited to badminton, basketball, netball, mini tennis and a five-a-side football and can also cater for cricket, korfball, rugby union and rugby league.
Tennis hall
The tennis hall is the largest indoor facility and houses a variety of courts. It has been used by several national and international sports teams including the England, Australia and New Zealand All Blacks rugby union teams.
Athletics track
In 2017 the track was renamed the Sir Mo Farah track. Athletes from SMRAC (St Mary's Richmond Athletics Club) who use the track and St Mary's Uni students attended the official opening where Mo Farah opened it.The six-lane, 400 m synthetic athletics is floodlit and can be used all year round. It was opened in 2005 and underwent resurfacing in 2010. In addition to being used by students, it is used by local schools, St Mary's Richmond Athletic Club and world class athletes connected to the St Mary's Endurance Performance and Coaching Centre (EPACC) including Mo Farah, Joanne Pavey, Andrew Baddeley, Andrew Osagie and Stephanie Twell. In addition, the track has been used by Usain Bolt, the Kenyan National Long Distance team and the Chinese Marathon squad.
The track is UK Athletics-certified and has the following features:
6 × 400 m lanes
Throwing cage
Javelin and shot put areas
Long jump and triple jump areas (2)
High jump and pole vault landing areas
Steeplechase water jump and adjustable barriers Dance studio
The studio has a sprung floor, a surround sound sound system, a galleried lighting system and mirrored wall. This facility is used for dance and drama performances, aerobic and fitness sessions, boxing and martial arts.
Gymnasium
The gymnasium is fully equipped to cater for academic and club use, including four trampolines. The floor is sprung, which allows for a full programme of gymnastics to be undertaken. The gymnasium is a multi-use facility and can cater gymnastics, trampolining, martial arts and fitness classes.
Grass pitches
St Mary's has over 10 acres (40,000 m2) of playing fields on campus including a floodlit training area, two further training areas and a rugby pitch. Teams that have used these facilities include Harlequins Rugby League, the English, Irish and Australian rugby union squads and the New Zealand All Blacks.
Teddington Lock sports facilities
St Mary's also has extensive sporting facilities five minutes from the main campus at Teddington Lock: over 30 acres (120,000 m2) of playing fields with changing and storage areas, showers and toilets. A dedicated team of groundstaff maintains all of the grass pitches.