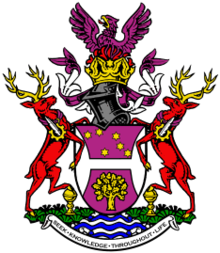 The University of Hertfordshire is a public university in Hertfordshire, United Kingdom. The university is based largely in Hatfield, Hertfordshire. Its antecedent institution, Hatfield Technical College, was founded in 1948 and was identified as one of 25 Colleges of Technology in the United Kingdom in 1959. In 1992, Hatfield Polytechnic was granted university status by the British government and subsequently renamed University of Hertfordshire.
With a student community of over 25,130 including more than 5,200 international students that together represent 100 countries, the university has a global network of over 165,000 alumni. The university is one of Hertfordshire's largest employers with over 2,700 staff, 812 of which are academic members of staff. It has a turnover of more than £235 million. The university is a member of University Alliance, Universities UK and European University Association.
Campus
The University is primarily based on two campuses, College Lane and de Havilland. It owns a BioPark facility, which is a science park managed by Exemplas on behalf of the University. It also provides 6,000 square metres of laboratory and office space to life science and health technology businesses. As of 2014, there are currently 27 permanent and virtual tenants.
Additionally, a pool and climbing wall are among its sports facilities. It has also the Weston auditorium, for arts events, two art galleries and owns one of the highly recognised teaching observatories in the United Kingdom.
College Lane Campus
The main site of the university remains the College Lane campus, which houses the original Hatfield Technical College building. Notable among the buildings in this campus is the university's Learning Resource Centre, a combined library and computer centre. There is also a substantial collection of halls of residence and student houses, and the University of Hertfordshire Students' Union is headquartered at College Lane campus. The College Lane campus is also the location of Hertfordshire International College, which is part of the Navitas group, providing a direct pathway for international students to the University. The Hertfordshire Intensive Care & Emergency Simulation Centre is also located at College Lane. A new science building has recently opened at College Lane. This purpose built facility will primarily offer teaching laboratories, a range of research laboratories and a café.
de Havilland Campus
The £120-million de Havilland campus, which was built by Carillion, opened in September 2003 and is situated within 15 minutes walk of College Lane, and is built on a former British Aerospace site.This campus also houses its own Learning Resource Centre, a combined library and computer centre. Hertfordshire Sports Village which includes a gym, swimming pool, squash courts is also on this site. The large Weston Auditiorium is present on the de Havilland campus, adjacent to the Learn Resource Centre. The auditorium has a capacity of 450 and can host talks both by university lectures for students and for guest lecturers for guests and students, music and films events and dance events. The campus also contains 11 halls of residence; named after local towns and villages. Ashwell and Welwyn are examples of the buildings with the towns being present in Hertfordshire. The campus is mostly themed around law and business, having its business school located on the campus as well as its law school. A full scale, mocked up court room is present, being available for use for students studying a law degree. It is the only public university to provide the 2 years accelerated law degree.
Bayfordbury Campus
A third 50-hectare site in Bayfordbury houses the university's astronomical and atmospheric physics remote sensing observatory,Regional Science Learning Centre, field stations for biology and geography programmes.
Situated approximately 6 miles (10 kilometres) from the main campus in Hatfield, Bayfordbury Observatory is one of the largest astronomical teaching observatories in the United Kingdom. The observatory has formed part of the astronomy-related degree programmes since it opened in 1970.
The seven optical telescopes at Bayfordbury campus to observe detailed images of objects in space. Moreover, the five newest telescopes are also able to be operated remotely. The 4.5-metre radio telescope and 3-dish 115-metre baseline interferometer allow a completely different view of the universe. These are connected to 21 cm line receivers, to detect the neutral hydrogen in the galaxy and extragalactic radio sources.
Meridian House
Home to some Schools within the Health and Human Faculty, this building is located on the edge of Hatfield town centre, off College Lane campus. Meridian House is the location of eight clinical skills laboratories for nursing and midwifery programmes of the University. Skills facilities and ambulances for paramedic training are also situated at Meridian House, aside from counselling programme and staff offices.
Gallery
de Havilland Campus
Learning Resource Centre at de Havilland
Law Court Building
Halls of Residence at de Havilland
University of Hertfordshire Racing
Weston Auditorium
Sandwich Bar
Bayfordbury Observatory