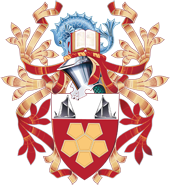 London South Bank University (LSBU) is a public university in Newington, London. It has 17,985 students and 1,700 staff, and is based in the London Borough of Southwark, near the South Bank of the River Thames, from which it takes its name.
Founded from charitable donations in 1892 as the Borough Polytechnic Institute, it absorbed several other local colleges in the 1970s and 1990s, and achieved university status in 1992. LSBU is a post-1992 or new university.
The current Chancellor is Sir Simon Hughes and Vice-Chancellor is David Phoenix.
Campus
London South Bank University's Keyworth Centre
The main campus populates a triangular section of roads in the Borough of Southwark, immediately north of the Elephant and Castle. London's South Bank is a short tube or bus journey away from Waterloo or London Bridge. To the north of the campus is Borough Road, where the main entrance is situated and the original building of the Borough Polytechnic Institute. To the west is London Road and to the east is Southwark Bridge Road. At the northwest corner is St George's Circus.
Schiller International University had a campus in the Technopark Building on the London South Bank University property.In August 2011 Schiller stated that it was closing its London campus and will not start the Autumn 2011 semester there, due to stricter student visa requirements in the United Kingdom.
There is a smaller satellite campus in east London: at Havering (LSBU at Havering), diagonally opposite Harold Wood station.