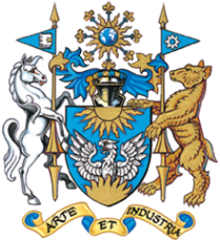 Coventry University is a public research university in Coventry, England, known as Lanchester Polytechnic until 1987, and Coventry Polytechnic until it was awarded university status in 1992. Its four faculties, which are made up of schools and departments, run around 300 undergraduate and postgraduate courses. Across the university there are 11 research centres which specialise in different fields, from transport to peace studies.
With more than 29,000 students in 2017, Coventry University is the larger of the two universities in the city – the other being the University of Warwick – and the fastest growing university in the UK. It has two principal campuses: one in the centre of Coventry where the majority of its operations are located, and one in central London which focuses on business and management courses. The university also runs offshoot higher education institutions in Coventry (next door to its main campus), Scarborough, North Yorkshire, and East London, each of which markets itself as being an "alternative to mainstream higher education".
Adjacent to the Coventry campus is Coventry University Technology Park, through which several of the university's commercial subsidiary operations provide business services to local and national organisations. Coventry is a member of the University Alliance mission group, of which its vice-chancellor, John Latham, is the current chair.
Campus
Coventry campus
Coventry currently occupies a purpose-built 33-acre (130,000 m2) campus in Coventry City Centre adjacent to Coventry Cathedral and the Herbert Art Gallery and Museum. It occupies a mix of new purpose-built buildings, converted structures, and those inherited from its predecessor institutions.
The centrepiece of the campus is The Hub, an award-winning building which opened in August 2011. The Hub is the home of the Coventry University Students' Union, student support services, a bar/nightclub, a food hall and food outlets which are catered by Sodexo In September 2012, a new £55 million engineering building was opened, with facilities such as a full-scale Harrier jump jet, a wind tunnel and flight simulators.The Hub was awarded a BREEAM 'excellent' rating and between them The Hub and the engineering building feature sustainable initiatives such as grey-water harvesting, a biomass boiler and a green roof. The opening of the buildings marks the first stage of a £160 million redevelopment plan of the campus phased over 15 years.
Coventry's £20 million library opened in 2000 and is on the outskirts of the campus. It was officially opened by Princess Anne in September 2001 and contains over 2,000 print periodicals, 350,000 monographs, and more than 6,000 video tapes, audio tapes and films. The library has a distinctive turreted exterior and has won awards for its interior design which features a light distribution system to make the most of natural light throughout the building.
There are two converted buildings on the campus. A former car engine factory built in 1910 located next to the university's library now houses the Coventry Business School, and a cinema built in 1880 on Jordan Well is currently home to the School of Media and Performing Arts, now part of the Faculty of Arts and Humanities, and formerly part of the Coventry School of Art and Design.
To the south of the main campus is the 20-acre (81,000 m2) Coventry University Technology Park, a business park owned by Coventry University Enterprises Limited, a commercial subsidiary of the university. Tenants of the park are small businesses which receive support from the university and are allowed access to the university's library. The park is also home to conference facilities at the TechnoCentre building, the Coventry and Warwickshire New Technology Institute, which works with companies to address skills shortages in ICT and advanced technology,[citation needed] and a digital lab for serious game and other technology development.
Building names
Coventry has adopted a policy of naming its buildings after people or organisations with a significant local or regional impact. These include former Coventry-based automotive company Armstrong Siddeley; Shakespearean actress Ellen Terry; Coventry-based automotive pioneer Frederick Lanchester; Victorian novelist, critic and poet George Eliot; the father of the bicycle industry James Starley; former MP for Coventry East and political journalist Richard Crossman; artist Graham Sutherland; and founder of the Morris Motors automotive manufacturer William Morris.
CU Coventry
CU Coventry was established on campus in 2012 and is an offshoot of Coventry University, providing full-time and part-time professional courses such as accounting, legal studies and marketing. CU Coventry is independent from the university with its own staff and facilities, though its programmes are validated and awarded by the university.Courses offered are flexible, meaning that tuition fees at the institution are often lower than the maximum £9,000 universities in the UK can charge for full-time courses. The part-time nature of many of the courses delivered means classes can run at atypical times, such as evenings and weekends.
CU London
CU London was established as a new campus in 2017, offering a range of full-time and part-time courses in Dagenham, East London. Located in the former Dagenham Civic Centre, the campus focuses on "high quality, low-cost, career-focused" education, which is flexibly structured to fit around students' lives.CU London has offered over £95,000 in bursaries and scholarships to local students and schools in the Borough of Barking & Dagenham to make higher education more accessible.
CU Scarborough
The University opened a new facility, CU Scarborough, in Scarborough, North Yorkshire in 2016, as part of a new £45 million development, in the Weaponess area of the town. The University contributed £12 million towards the project. Courses include Law, Science & Engineering. The site also incorporates a new sports and leisure village and University Technical College (UTC), for 14-18 year-olds.
Coventry University London
Coventry University's London campus was opened in 2010 as part of a trend seen by a number of different British universities, where a campus in London was set up with a predominately international student body to build the universities' international reputation. The campus operates out of University House, 109-117 Middlesex Street in the City of London, almost 100 miles southeast of Coventry.