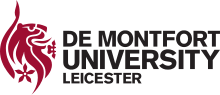 De Montfort University (DMU) is a public university in the city of Leicester, England.
The University is organised into four faculties: Art, Design, and Humanities (ADH); Business and Law (BAL); Health and Life Sciences (H&LS); and Computing, Engineering and Media (CEM). Its enrollment is over 22,000 students and is a Sustainable Development Hub, focusing on Peace, Justice and Strong Institutions, an initiative by the United Nations launched in 2018.
Campus
The Leicester campus is close to Leicester Castle and occupies what was once a religious precinct of the castle, built by the earls and dukes of Lancaster, known as the Newarke. It is bordered by the 15th-century Magazine Gateway or Newarke Gateway and the campus contains listed buildings, including Trinity House, rebuilt in 1901 and containing part of the original 14th-century Hospital of The Annunciation building. The Hawthorn Building contains the ruins of the 1353 Church of the Annunciation of Our Lady of the Newarke, where the body of King Richard III is said, according to early sources, to have been displayed before his burial at Greyfriars. The ruins form the centrepiece of the De Montfort University Heritage Centre, opened in March 2015. As well as the ruins, the Centre also celebrates the history of the university and contemporary student work.
The campus has seen several recent developments as part of a ten-year £200 million initiative by the university, such as the £35 million Hugh Aston Building; constructed to move students from the Faculty of Business and Law closer to the centre of the university's infrastructure.
In 2016, the Vijay Patel Building was opened. The Vijay Patel Building is home to art and design courses and is the centrepiece of the £136 million Campus Transformation Project which aims to "provide DMU with one of the finest city centre campuses in the country". The building is named after Dr Vijay Patel, who, alongside his wife, made the single largest donation by individuals in the university's history.
Reputation and rankings
The UK Department of Education awarded the institution a 'Gold' rating in the 2017 Teaching Excellence Framework, describing teaching as being "consistently outstanding" and "of the highest quality found in the UK Higher Education sector".The 2014 Research Excellence Framework described roughly 60% of the University's research activities as "world-leading" or "internationally excellent".
The university has one of the largest numbers of Teacher Fellows of any UK university and was awarded Centre of Excellence status for its performance practice teaching and student support.This award has enabled further investment in research as well as the construction of a new building with performance studios and rehearsal areas.
Further, the University was ranked 94th in the UK for the Guardian rankings of 2018, 70th by The Complete University Guide for 2019, and 67th by The times/Sunday Times higher education ranking.