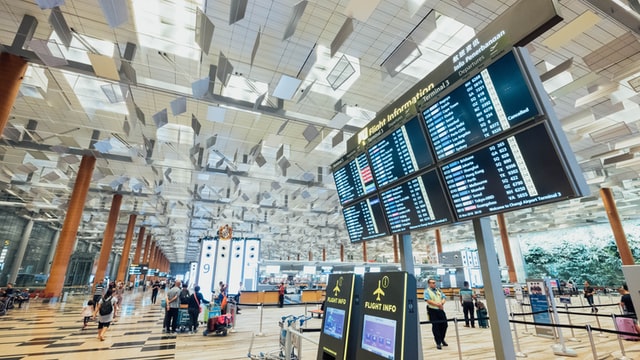 Students from Birmingham City University visited Birmingham Airport as part of a challenge to showcase the potential uses of magnesium within the travel and aerospace sector.
  Set by Birmingham City University and the world's largest producer of high pressure die cast magnesium components, Meridian Lightweight Technologies (MLTUK), the competition aims to alter widespread perceptions with an interdisciplinary art installation that will eventually go on public display at Birmingham Airport.
  At 1.8g/cm³, magnesium is the lightest of all structural materials, the eighth most abundant chemical element in the earth's crust and is 100% recyclable.
  However, misconceptions surrounding the element's properties have seen a historical aversion to designing products with magnesium when compared to less sustainable and heavier metals.
  This is despite a long-standing ban being recently lifted for the use of high-pressure magnesium die casting in aircraft seat construction.
  Andy Holding, corporate responsibility manager, Birmingham Airport, said: "We're delighted to be involved in this exciting project which brings together innovation, education and support for the local economy – some of the key themes which drive our Corporate Responsibility strategy.
  "We can't wait to see what the students come up with and to exploring how we can take the project further."
  It is hoped that the winning prototype and designs of the runners-up will be displayed in a special exhibition at Birmingham Airport, showcasing the benefits of magnesium to the more than 13 million passengers who use the Airport every year.
  Competition organisers hope that the display of a maquette will inspire further investment, envisaging a full-scale version to be crafted from magnesium and exhibited outside Birmingham Airport's terminal.
  The competition has already provided the students with an opportunity to work closely with professional artists, designers, engineers, industrial partners and global organisations on this project, with the potential of international exposure for the winning entry and runners-up.
  Furthermore, the winning design will be showcased to experts at the International Magnesium Association (MIA), who are also supporting the project.
  Professor Julian Beer, Deputy Vice-Chancellor at Birmingham City University led the delegation to Birmingham Airport.
  He said: "As industry seeks to become more and more sustainable, the benefits of magnesium are more pertinent than ever. This is why our competition is so important, while also giving our students valuable exposure as they seek to forge their own careers in engineering and the arts.
  "We were delighted to be welcomed at Birmingham Airport and it gave students participating in the competition a greater understanding of where their work could be seen and the demographics of the people that the project is hoping to engage with.
  "As an internationally-focused institution with students from more than 80 countries, Birmingham Airport is incredibly important to the work we do and we look forward to working with them in the future on more exciting projects that have a positive impact both here and abroad."
  The competition was launched by Professor Beer at Birmingham City University in February, and individuals and teams from across the institution's four Faculties have until the end of April to finesse their ideas before submission.
  The judging panel will be led by Rajinder Dudrah, Professor of Cultural Studies and Creative Industries at Birmingham City University.
  Birmingham City University and Meridian agreed a strategic partnership last year, which has seen the two organisations work together in the education, research and development of magnesium use. The partnership is placing fuel efficiency through weight savings and sustainability at its core, and last year they joined forces for an inaugural magnesium symposium held at the University's City Centre Campus in Birmingham.
  Alice Evans from Bromsgrove is studying Product and Furniture Design at Birmingham City University and is entering her design into the magnesium competition. She said:
  "It was fantastic to be able to visit Birmingham Airport and the prospect of being able to exhibit there would be an incredible opportunity.
  "It was particularly useful to learn that over 50% of passengers who use Birmingham Airport come from the West Midlands area, meaning it holds a great sense of pride among those who live nearby. I now plan to tweak my design to incorporate more local elements that reflect the heritage of the Airport and the wider region it serves."
  KEYWORDS:
  TRAVEL, TRANSPORT, INNOVATION, AIRPORT, PLANE, AIR, MATERIALS, EDUCATION, TRAINING, STUDENTS