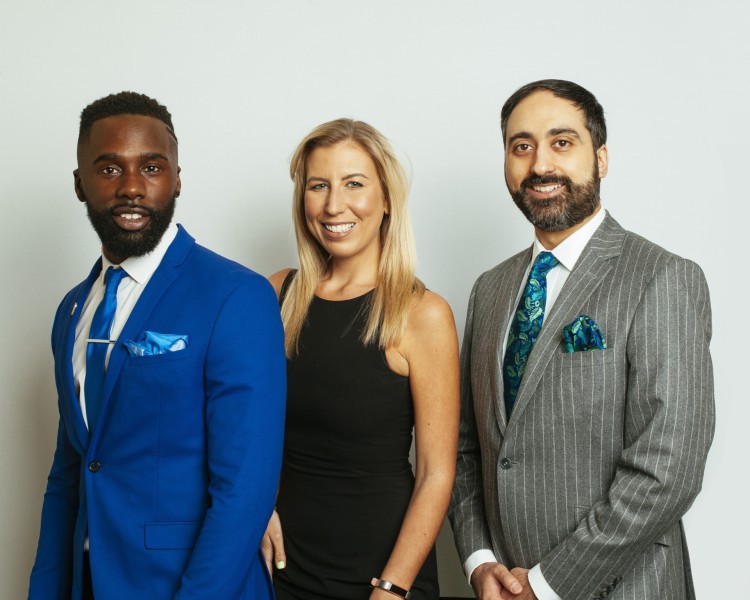 The Director of Aston University
The finalists were announced on Thursday 12th April following intense application and interview rounds. The West Midlands Combined Authority's Chief Executive, Deborah Cadman OBE, chaired an esteemed panel of judges to determine winners of BPS Birmingham Future's flagship awards, which is taking place on Thursday 24th May at the ICC.
Seventeen impressive young professionals from across six categories were shortlisted and interviewed by the panel, with a winner chosen in each category as well as an overall winner.
Aston University's very own Beth Sadler has been shortlisted for the marketing and communications Category. Beth joined the University in 2016 as a consultant for business partnerships and community engagement at Aston Business School.
Beth is responsible for increasing enterprise engagement by delivering a wide range of initiatives that share the school's research, education, training and services for business growth and professional development, and to form new partnerships with the school that encourage wider participation.
Speaking of the finalists, Terry said: "Birmingham is increasingly being recognised for its wealth of young and diverse talent. The energy, creativity and innovation of the finalists is ample demonstration of the enormous potential of the city and the wider region."
This year's finalists have been revealed as:
Finance (sponsored by Wesleyan)
Zoe Brown, PWC
Laura Thursfield, Mazars
Andy Lee, NatWest
HR, Recruitment & Training (sponsored by HSBC Bank)
Robert Whitehouse, Sparta Global
Gishan Abeyratne, BCL Legal
Legal
Laura Daly, Irwin Mitchell
Ben Gardner, Pinsent Mason
Chrissie Wolfe, Irwin Mitchell
Marketing & Comms
Sunny Gill, Silver Mountain
Beth Sadler, Aston Business School
Tru Powell, Alternate Events
Property & Construction
Jonathan Stott, Gateley Hamer
Kuli Bajwa, RPS Group
Gurpreet Bassi, SDL Auctions
Technology (sponsored by JDX Consulting)
Sarah Mullett, Legal & General
Sud Parwana, PWC
Rebecca Hook, Legal & General
Speaking at judging day, Deborah Cadman OBE, said: "It's been an absolute privilege to chair the judges.
"I have seen and heard from the most amazing young people who have demonstrated they really are at the top of their game.
"They've been humble, committed, and if they are to win, all of them will use the position to give back and support the bright young talent of the future; by influencing even younger people in this city and region to do well and achieve.
"We're really excited by the breadth of talent in every category and of course those who have won, and I think they will all continue to grow and develop and become even better."
Deborah was joined on the panel by some of the region's top professionals, including: Caroline Hill, director of HR & corporate services at Wesleyan; Jilly Cosgrove, founder of PR and design agency Barques; Ian Barnes, international tax partner at Deloitte and chair of BPS Birmingham; Dr. David Hardman, CEO of Innovation Birmingham and recipient of last year's 'Inspiring Leader' award; Victoria Ball, senior associate at Trowers & Hamlins and chair of BPS Birmingham Future; and Michael Parker, associate director at Gleeds and winner of BYPY 2017.
Now in its 18th year, BYPY has been established as one of the most respected accolades in the business community, building upon BPS Birmingham Future's commitment to recognising, developing and rewarding young professionals throughout the year. The winner will represent the city for a year as BYPY.
In addition to the six categories, finalists have also been revealed in the Aspiring Talent category, which this year welcomes PwC as a sponsor.
This award recognises exceptional individuals aged between 16 and 24 who are currently in full-time Higher/Further Education or training and looking to embark upon a professional services career within Birmingham.
This year's Aspiring Talent finalists are:
Anil Kararra, Gowling WLG
Hector Mtsambiwa, BPS Birmingham
Daniel Goddard, Trowers and Hamlins LLP
The final award, for Inspiring Leader, is being sponsored by Squire Patton Boggs and recognises an exemplary and highly-influential figure within the professional community whose effect can be measured by their impact upon others. The winner of this title will be announced at the Awards Dinner.
KEYWORDS:
ASTON, BUSINESS, SCHOOL, BIRMINGHAM, YOUNG, PROFESSIONAL, MBA, EDUCATION, TRAINING